OUR LOCATION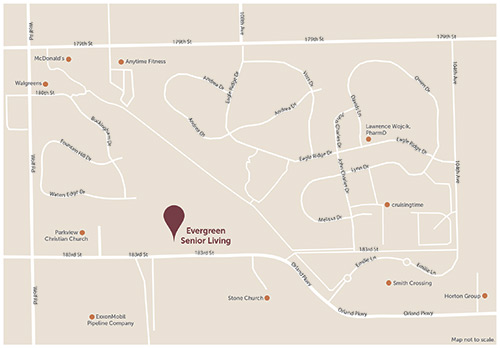 Evergreen Place and The Legacy: Memory Support community is located in beautiful 
Orland Park, Illinois
. We provide assisted living for seniors from all around Chicagoland, including the following locations:
Tinley Park  •  Palos Park  •  Palos Heights  •  Homer Glen
Mokena  •  Frankfort  •  New Lenox  •  Lockport  •  Burr Ridge • Lemont  • Manhatten • Homewood-Flossmoor •  Oak Lawn  • Oak Forest
Our senior living community is conveniently located by Parkview Christian Church (Orland Park Campus) at 10820 183rd Street, Orland Park, Illinois. Visit our campus or call us at (708) 479-1082 today to find out more.

Directions:
From South (Frankfort)
From South LaGrange Rd/ US-45 North, continue to follow US-45 North.
Turn LEFT onto Orland Parkway/183rd St.
10820 183rd St/Orland Parkway on your RIGHT- Evergreen Senior Living Orland Park (located in between Smith Crossing & Parkview Christian Church)
From West (Joliet)
Take I-80 EAST toward Gary Indiana
Take the US-45 Exit 145, toward LaGrange Rd.
Keep LEFT to take ramp toward Orland Park
Turn LEFT onto US-45 North/96th Ave, continue to follow US-45 North.
Turn LEFT onto 183rd St./Orland Parkway
10820 183rd St./Orland Parkway on your RIGHT- Evergreen Senior Living Orland Park (located in between Smith Crossing & Parkview Christian Church)
From North (Downers Grove)
Take I-355 South/Veterans Memorial Tollway S toward Boughton Rd.
Take US-6/Southwest Hwy, Exit 1
Keep LEFT to take ramp toward New Lenox
Turn LEFT onto Maple Rd./US-6 East, continue to follow US-6 East
Turn SLIGHT RIGHT onto W. 179th St.
Turn RIGHT onto Wolf Rd.
Turn LEFT onto 183rd St./Orland Parkway
10820 183rd St./Orland Parkway on your LEFT- Evergreen Senior Living Orland Park (located in between Smith Crossing & Parkview Christian Church)
From East (Oak Park)
From 159th St./US-6 East, turn RIGHT onto Cicero Ave/IL-50
Turn LEFT onto 167th St.
Merge onto I-57 South towards Kankakee
Merge onto I-80 West, Exit 345B toward Iowa
Take US-45/LaGrange Rd., Exit 145
Merge onto LaGrange Rd/US-45 North toward Orland Park
Turn LEFT onto 183rd St./Orland Parkway
10820 183rd St./Orland Parkway on your LEFT- Evergreen Senior Living Orland Park (located between Smith Crossing & Parkview Christian Church)